Protect your products by notifying staff and visitors that static control precautions are needed. ESD Aisle Marking Tape allows you to establish the areas requiring static protective measures. This 6 mil, scuff-resistant tape features the ESD Warning Symbol and message. Bright yellow background makes the black text easy to read. Rolls are 3 inches wide and 54 feet long on a 3 inch core.

Designate areas and equipment for lead-free production with aisle marking tape. This 6 mil, scuff-resistant tape features the "no-lead" PB Warning Symbol and message. The high contrast green and white tape is easy to see on dark or light colored floors. Rolls are 3" wide and 54 feet long on a 3 inch core. Message repeats every 12".

ANTI-STATIC CELOPHANE TAPES
A TRANSPARENT CELLOPHANE FILM TAPE COATED WITH A HIGH TACK, NON-STAINING, RUBBER ADHESIVE SYSTEM. THIS PRODUCT OFFERS A WIDE VARIETY OF APPLICATIONS RANGING FROM STANDARD OFFICE, GIFT WRAP, MENDING, BINDING, EDGE TAPING, REINFORCING AND SPLICING. THIS CELLOPHANE IS A STATIC FREE TAPE. THE #107 IS AVAILABLE WITH A STOCK IMPRINTED WARNING MESSAGE THAT READS, ANTISTATIC TAPE. THE 107 IS AVAILABLE ON A PAPER CORE.


Provides non-sparking surfaces on both the inside and the outside. A conductive grid is buried between two static dissipating copolymer substrates that will not shed, crack, chip or rub off. Available on 3" cores.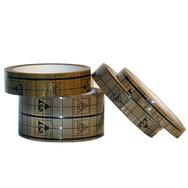 Polyimide Tape - 22-SH SERIES
Polyimide tapes are typically used in electronics coating such as parylene coating, solder wave and conformal coating. Can also be used in other high-temp processes such as masking gold leaves during PCB processes.
Withstands high-temperatures up to 500°F (260°C)
Optimum performance in thermal insulation
Flame-resistant electrical insulation
Material: Polyimide
Standard Color: Amber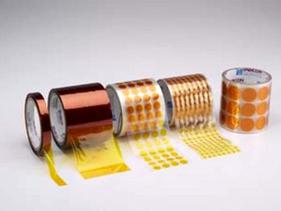 Identification Arrows and Dots - AR-SH SERIES
Inspection/identification arrows and dots can be permanently affixed or removed without leaving any residue. Inspection arrows and dots are color coded to identify and point directly to problem areas on any equipment.
Temperatures up to 425F
Use for flagging, identification, quality inspections or to indicate repairMaterial: Paper or Vinyl
Color: Color coded by size