Choose From a Selection of Anti-Static Coatings, Cleaners and Lotions
Staticide® Ready-to-Use Dilutions
Non-staining, completely biodegradable, and safe to use. Proven to be effective in relative humidity below 15%. One gallon covers approximately 2000 sq. ft. and will last from weeks to months depending on the application.

2002/2005 – Heavy Duty Staticide®
Use this ready-to-use anti-static topical for cleaning industrial parts like conveyor systems to control static and for preventing tribogeneration on foam, carpet, and upholstery.

2001/2003 – General Purpose Staticide®
This convenient and ready-to-use anti-static topical cleaner eliminates static to a zero charge and prevents tribogeneration on all environmental surfaces, plastic products, and product packaging.

6001 – Mat & Table Top Cleaner
ACL Mat & Table Top Cleaner is a multi-purpose neutral cleaner that is designed for production areas, including static control zones.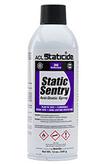 2006 – Staticide® Static Sentry
Staticide® Static Sentry uses the same proven effective surfactants as our Staticide® Original Concentrate, only it's specially packaged in a convenient aerosol can for easy application.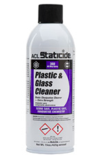 8670 – ACL Plastic & Glass Cleaner
This foaming, non-streaking, static-neutralizing cleaner will not generate static even while using. Safe to use on plastics.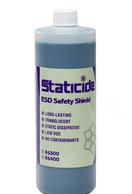 6300 – Staticide® ESD Safety Shield
Our ESD Safety Shield coatings create a dissipative surface for long-term effects and are primarily used on plastics, films, and equipment parts. The 6300 formula is designed for application on common plastics such as acrylic, PET, PETG, PVC, and polycarbonate. Curing this coating can be done at ambient temperatures or accelerated through low heat. This product is ideal for plastic parts, electronic housing, bins, clamshell packaging, and shelving to prevent static buildup and maintain ESD safety standards.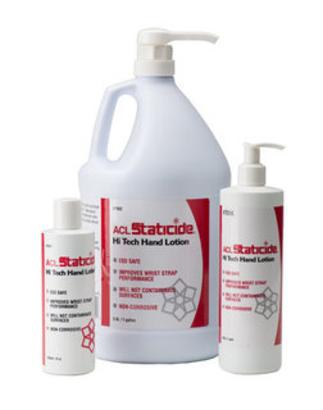 7001, 7016, 7002 – Staticide®Hi Tech Hand Lotion
Moisture on skin is vital to wrist strap performance for personal grounding. ACL Staticide® Hi Tech Hand Lotion's static dissipative formula moisturizes the skin for better bonding between the skin and wrist strap which is imperative in the electronics manufacturing industry.
Enriched with natural moisturizers, including aloe vera and vitamin E, Staticide® Hi Tech Hand Lotion will absorb quickly into the skin and encourage good skin health. Daily use of this hand lotion relieves and prevents dryness, flaking and irritation caused by the constant use of gloves and chemicals.
This non-acidic, greaseless formula contains no glycerin, silicone, lanolin or mineral oil. It absorbs quickly into the skin, providing good contact between the skin and wrist strap, and will not contaminate work surfaces, leaving your work area ESD safe.
*Static dissipative
*No glycerin, silicone, lanolin or mineral oil
*Improve wrist strap performance
*Available in clean fresh scent and in fragrance-free
Product #7001 = 8 oz squeeze bottle; 24 per case
Product #7016 = 16 oz bottle (pump top); 12 per case
Product #7002 = 1-gallon container (pump top); 4 per case
Product #7001FF = Fragrance-Free; 8 oz squeeze bottle; 24 per case
Product #7016FF = Fragrance-Free;16 oz bottle (pump top); 12 per case
Product #7002FF = Fragrance-Free;1-gallon container (pump top); 4 per case


8oz. IC Blue Lotion/
​8oz. IC Blue Lotion in ESD Safe Bottle
Our Natural Non-Contaminating Static Dissipative Moisturizing Hand Lotion contains no Silicones, Lanolin's, Glycerin or Mineral Oils. Absorbs immediately into your skin and is greaseless. Our IC Pregloving Moisturizer helps to relieve dermatitis, urticaria, "skin flaking", chapping and other irritations due to regular use of gloves and will not degrade or weaken latex gloves.Used in conjunction with wrist straps. Vitamins A, D & E fragranced with all natural herbal steeped tea along with hints of grapefruit and lemon splashes. Helps to meet ESD-TR20.20-2000.
Available in: 8 oz (regular and ESD blue bottle), 16 oz (ESD blue bottle only),
32 oz and Gallon

A Pre-gloving "Paraben Free" moisturizing Hand Cream formulated for the Medical, Pharmaceutical, Aerospace and Food Processing environments. Contains 4% Dimethicone which helps add a protective layer to the skin. This cream relieves chapping, skin flaking and skin sensitivity caused by Nitrile, Vinyl & Latex gloves. Loaded with 14 Botanicals and Succulents along with Vitamins A, D and E for skin rejuvenation.
​Available in 8 oz.
ICL-CR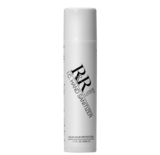 IC Hand Sanitizing Lotion in Airless Pump
This "Alcohol Free" Sanitizing Lotion kills 99.99% of germs for up to four hours, including HIV, Hep C, MRSA, E. Coli & Salmonella, offering an alternative to Alcohol based Sanitizers. I.C. Antibacterial Barrier Hand Lotion gives a protective barrier using Dimethicone to shield the skin from Biological & Chemical Environments including Bodily Fluids. Re-moisturizes and replenishes your skin with Botanicals & Succulents: Aloe Vera, Jojoba, Blue Agave, Blueberry, Cranberry, Pomegranate, Raspberry, Strawberry, Green Tea, Green Coffee Bean, Grape Seed, Acai Berry, Vitamins A, D & E.
Available in: 8 oz., 16 oz., 32 oz, and Gallon.
Also, 3 oz. Airless Pump and 50 mL Airless Pump
ICBL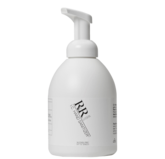 I.C. Instant Foam Hand Sanitizer
I.C. Instant Foam Hand Sanitizer is based on the active ingredient Benzalkonium Chloride in an unique non drying, moisturizing and conditioning formulation. Kills 99.99% of most common germs that may cause illness in just 15 seconds and is NSF approved E3 for no-rinse hand sanitizing for food handlers.
Available in: 50 mL, 20 oz., and Gallon
ICHS