Basic Series 50 Workstation
Economical workstation with a deluxe look and quality. This "KNOCKDOWN"* workstation still has a 1000 lb capacity (evenly distributed) and is simple to assemble. The leg assemblies are fully welded. This workstation still accepts all Phoenix accessories. There are two sizes kept in stock in limited quantities and can be shipped in 5 DAYS. These stocked sizes have Utility Grey frames and Antique White (low glare) laminated worksurfaces. Other sizes and colors are available and are subject to normal lead times.
The Series 50 Value Bench is also available with ESD options. These are available with any height or any of our colors offered for our other workstations. These however are subject to normal lead times.
* Bench assembly is available for an additional charge.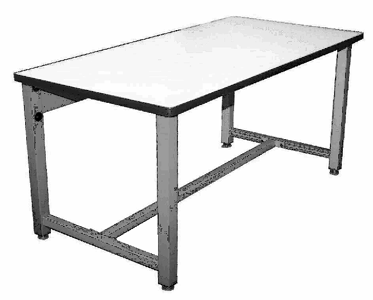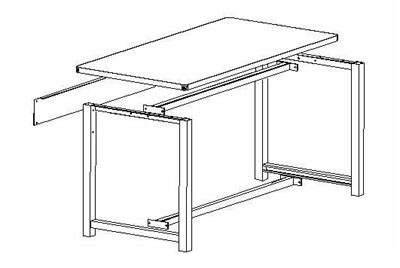 30" Deep Non-ESD

Part No.

Description

Lbs.

500
30" DP x 48" W x ___H
100
505
30" DP x 60" W x ___H
118
510
30" DP x 72" W x ___H
136
515
30" DP x 96" W x ___H
172

36" Deep Non-ESD

Part No.

Description

Lbs.

520
36" DP x 48" W x ___H
120
525
36" DP x 60" W x ___H
138
530
36" DP x 72" W x ___H
156
535
36" DP x 96" W x ___H
192
30" Deep ESD

Part No.

Description

Lbs.

500E
30" DP x 48" W x ___H
100
505E
30" DP x 60" W x ___H
118
510E
30" DP x 72" W x ___H
136
515E
30" DP x 96" W x ___H
172

36" Deep ESD

Part No.

Description

Lbs.

520E
36" DP x 48" W x ___H
120
525E
36" DP x 60" W x ___H
138
530E
36" DP x 72" W x ___H
156
535E
36" DP x 96" W x ___H
192
Quick Ship Stocked Size

Part No.

Description

Lbs.

505
30" DP x 60" W x 30" H
143

Quick Ship Stocked Size

Part No.

Description

Lbs.

510
30" DP x 72" W x 30" H
161
30" Deep Non-ESD

Part No.

Description

Lbs.

500
30" DP x 48" W x ___H
100
505
30" DP x 60" W x ___H
118
510
30" DP x 72" W x ___H
136
515
30" DP x 96" W x ___H
172
36" Deep Non-ESD

Part No.

Description

Lbs.

520
36" DP x 48" W x ___H
120
525
36" DP x 60" W x ___H
138
530
36" DP x 72" W x ___H
156
535
36" DP x 96" W x ___H
192
30" Deep ESD

Part No.

Description

Lbs.

500E
30" DP x 48" W x ___H
100
505E
30" DP x 60" W x ___H
118
510E
30" DP x 72" W x ___H
136
515E
30" DP x 96" W x ___H
172
36" Deep ESD

Part No.

Description

Lbs.

520E
36" DP x 48" W x ___H
120
525E
36" DP x 60" W x ___H
138
530E
36" DP x 72" W x ___H
156
535E
36" DP x 96" W x ___H
192
Quick Ship Stocked Size

Part No.

Description

Lbs.

505
30" DP x 60" W x 30" H
143
Quick Ship Stocked Size

Part No.

Description

Lbs.

510
30" DP x 72" W x 30" H
161