Basic Series 300 Workstation
The Series 300 Ergonomic Workstation features attractively styled telescoping legs. This hand crank hydraulic bench offers a wide range of accessories and can be motorized. Handsome enough for the office, the Series 300 is equally suited for light manufacturing uses. The total capacity is 500 lbs.
Note: 12" height adjustment range is standard from 30" to 42" high.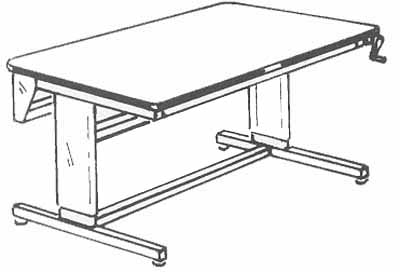 30" Deep Non-ESD

Part No.

Description

Lbs.

3000
30" DP x 48" W x 30-42"H
115
3005
30" DP x 60" W x 30-42"H
133
3010
30" DP x 72" W x 30-42"H
151
3015
30" DP x 96" W x 30-42"H
187

36" Deep Non-ESD

Part No.

Description

Lbs.

3020
36" DP x 48" W x 30-42"H
135
3025
36" DP x 60" W x 30-42"H
153
3030
36" DP x 72" W x 30-42"H
171
3035
36" DP x 96" W x 30-42"H
207
30" Deep ESD

Part No.

Description

Lbs.

3100
30" DP x 48" W x 30-42"H
115
3105
30" DP x 60" W x 30-42"H
133
3110
30" DP x 72" W x 30-42"H
151
3115
30" DP x 96" W x 30-42"H
187

36" Deep ESD

Part No.

Description

Lbs.

3120
36" DP x 48" W x 30-42"H
135
3125
36" DP x 60" W x 30-42"H
153
3130
36" DP x 72" W x 30-42"H
171
3135
36" DP x 96" W x 30-42"H
207
30" Deep Non-ESD

Part No.

Description

Lbs.

3000
30" DP x 48" W x 30-42"H
115
3005
30" DP x 60" W x 30-42"H
133
3010
30" DP x 72" W x 30-42"H
151
3015
30" DP x 96" W x 30-42"H
187
36" Deep Non-ESD

Part No.

Description

Lbs.

3020
36" DP x 48" W x 30-42"H
135
3025
36" DP x 60" W x 30-42"H
153
3030
36" DP x 72" W x 30-42"H
171
3035
36" DP x 96" W x 30-42"H
207
30" Deep ESD

Part No.

Description

Lbs.

3100
30" DP x 48" W x 30-42"H
115
3105
30" DP x 60" W x 30-42"H
133
3110
30" DP x 72" W x 30-42"H
151
3115
30" DP x 96" W x 30-42"H
187
36" Deep ESD

Part No.

Description

Lbs.

3120
36" DP x 48" W x 30-42"H
135
3125
36" DP x 60" W x 30-42"H
153
3130
36" DP x 72" W x 30-42"H
171
3135
36" DP x 96" W x 30-42"H
207
Scroll To Top