15' Floor Mat Grounding Cord
Snap to Ring Terminal
Part: 793.15


15' Multipurpose Common Point Ground Cord
Male 10mm Snap with Dual Banana Jacks
​Bulldog Clip Available
Part: CP1518, CP1518BD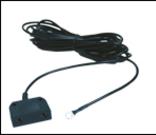 15' Multipurpose Common Point Ground Cord
Male 10mm Snap with Dual Banana Jacks to Ring Terminal
Part: CP2522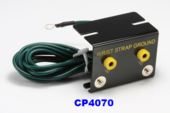 The CP4070 Metal Bench Mount Common Point Ground. The metal enclosed box mounts under front edge of workstation.
Includes a 15′ long ground cable with #10 ring terminal connector. Two banana jack receptacles for secure ground connections. Two parking studs (4mm) for storing cords when not in use.
Dual bench ground mount for single wire wrist straps.
Mounts under workbench and can ground two operators.