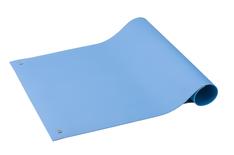 Homogeneous Static Dissipative Material
SpecMat-H static dissipative homogeneous work surface is a single-layer, ESD-safe, thermoplastic vinyl that is inherently dissipative throughout. Made in the USA, this material offers high value at a lower cost. The soft textured surface offers comfortable protection against static discharge, parts slippage, and damage from UV lights. The durable material is resistant against solder, heat, and most common solvents.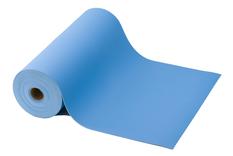 Maintenance: To keep mats clean and avoid insulative electrical readings, use a neutral cleaner such as the 6001 Mat and Table Top Cleaner. The low alcohol, high surfactant formula will allow deep cleaning without damaging the structural integrity of the SpecMat-H material.
*Surface resistivity measures 10^8 – 10^9 ohms per square
*Electricals are warranted for the lifetime of the mat
*Compliant to ANSI / ESDA S20.20
*Single layer: two thicknesses available (0.10" & 0.06")
*Static decay of .05 seconds
*Embossed surface
*Low outgassing; low VOC
*UV additives provide color stability
*Recyclable
*Available in light blue
*Rolls available in lengths of 40' and widths of 24", 30", and 36"
*Precut mats include two 10mm female snaps
*Custom cut sizes available
Product #62100  =  24" x 40'x 0.10" (2.54mm) Light Blue
Product #62300  =  30" x 40'x 0.10" (2.54mm) Light Blue
Product #62500  =  36" x 40'x 0.10" (2.54mm) Light Blue
Product #66700  =  24" x 40' x 0.06" (1.53mm) Medium Blue
Product #66800  =  30" x 40' x 0.06" (1.53mm) Medium Blue
Product #66900  =  36" x 40' x 0.06" (1.53mm) Medium Blue